Ring in Spring With These Fun Ideas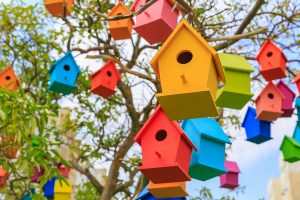 The first day of spring (March 20) is just around the corner! While this winter had been extremely mild, many of us are still looking forward to longer days, more sunshine and being able to be outside more. If you're looking for a way to celebrate the new season, and saying goodbye to the old, here are 5 ways that you can celebrate spring.
Visit a nursery or greenhouse: What better way to ring in spring than by looking at plants and perhaps making a plan for some greenery in your house or your yard.
Build a birdhouse: Our feathered friends start to come back with the warmer weather. Why not start the season off right by building a colorful house for them to come back to. As a bonus, this is a fun activity to do with kids!
Take a hike! Break out of your winter weather sleep and get outside for a walk. A walk in nature is a great way to see all the signs of spring. This time of year many trails might be wet so wear shoes that you don't mind getting muddy. ALSO don't forget the bug spray. Humans aren't the only living things enjoying warmer weather, ticks are out in the spring as well.
Volunteer: Help others and give yourself a boost by find an organization to volunteer with. There are many indoor and outdoor opportunities to get involved and help the community.
Learn how to pickle vegetables. Spring is a great time of year to start thinking about fresh vegetables and maybe even starting your own garden. Learn how to pickle vegetables or find some new recipes for all your fresh vegetables might help motivate you in the slow beginning growing phase.